Pentecost Divine Service Sunday, 8th June 2014 from Munich, Germany
This year Pentecost service will be held by our Chief Apostle Schneider at the Church Convention with the motto: "For indeed, the kingdom of God is within you" (Luke 17: 21).
Member's arrival at receiving location HELP College, Sungei Besi: 3:30 p.m.
(Live-announcement from Bischoff-Verlag in Frankfurt/Germany followed by live transmission)
HELP COLLEGE OF ARTS AND TECHNOLOGY (HELP CAT), FRASER BUSINESS PARK, SUNGEI BESI CAMPUS, next to Chan Sow Lin LRT station (please see details below).
Just on the other side of the road from KL Central church.
Start of Chief Apostle Divine Service at KL: 4:00 p.m.
End of service and transmission at KL: 6:15 p.m.
Please find here a driving map to HELP College.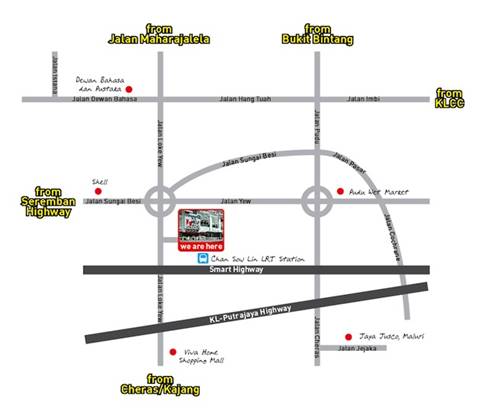 The service will be at 4th Floor Theatrette 2 for English/German and Theatrette 1 for Tamil. Please use the moving steps from the ground level area or the lifts.
If you arrive by LRT, please follow the signage to One Metro Pudu and Help College (please see pictures below).