The New Apostolic Church in Malaysia, with about 20 congregations in West Malaysia, belongs to the New Apostolic Church International, with head office in Switzerland, and is since 18th January 2009 part of the Regional Church of NACSEAsia (New Apostolic Church South-East Asia).

Once a year, All Apostles, national rectors as well as administrative officers gathered for the annual NAC SEAsia meeting. This year they gathered during last weekend from 17-19 January 2020 in Jakarta. Country specific dialogues and deliberations of spiritual topics from the desk of Chief Apostle as well planning and strategic issues were on the agenda. Continue reading →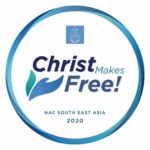 Chief Apostle J.L. Schneider addresses all new apostolic Christians worldwide with a New Year's message.   Click for the video Continue reading →
Christmas Divine Service at KL Central will commence at 9 a.m. on Wednesday 25 December 2019.

It was a very special trip for the Chief Apostle Jean-Luc Schneider to Malaysia. In the very beginning of the festive divine service he conducted on Sunday, 27 October 2019 he addressed the congregation "I'm really very thankful that our Heavenly Father allowed me to be here in your midst. That helps me to become aware how rich I am and my heart is full of respect towards you." The last Chief Apostle visit to this country was made by Chief Apostle Wilhelm Leber on July 2012.
On 27 October 2019 will be no divine service at KL Central church.