The New Apostolic Church in Malaysia, with about 20 congregations in West Malaysia, belongs to the New Apostolic Church International, with head office in Switzerland, and is since 18th January 2009 part of the Regional Church of NACSEAsia (New Apostolic Church South-East Asia).

But thanks be to God, who gives us the victory through our Lord Jesus Christ!  
VICTORY WITH CHRIST. With this  message based on 1. Corinthians15:57 the Chief Apostle sets a powerful accent for the year 2016. With the Lord's promise
Because I live, you will live also
(John 14:19) we know we can share in His victory. The victory to be achieved this year shall be a victory over evil. Remaining faithful, obedience to the law of God out of Love for Jesus and doing good even we ourselves have been victims of evil, are important victories requiring often a fight over ourselves. A fight to overcome pride, prejudice by accepting those who are not like me and the prompting to speak our thoughts and disturb peace. Victory over ourselves, is indeed very important to succeed towards the goal of salvation.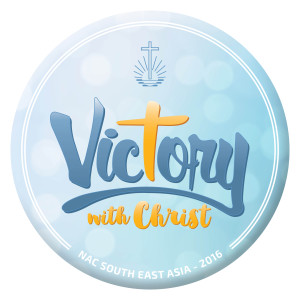 All of us have to plan for the future and thereby can easily be overwhelmed by worry. Let us become victorious over fear. Adverse circumstances will be visible and perceived all over around us. It will not go away yet with Jesus we can overcome it. We believe in the victory of Christ and continue to trust in Him. When making important decisions we shall not be guided by fear; Christ has come to guide us and help us unto victory.
Victory with Christ will be obtained by believing without seeing, having all our actions motivated by the love for Christ. Without endurance there will be no victory and last but not least, we need one another in order to overcome and therefore unity in the congregation, in family, in our relationships with the brothers in the ministry and our willingness to offer and sacrifice will lead us to oneness the VICTORY WITH CHRIST.
Blessed New Year to all, a year  filled with many a personal victory over evil, fear and ourselves. God bless!
See and hear our Chief Apostle on nac.today. click… http://nac.today/en/a/292235

The year ends in Malaysia also with joy in Christ.  The youth day for Malaysia made a joyful start on a hot Saturday morning, the 5th of December, 2015. A bubbly group of  45 has come together for this annual highlight. It began with interesting activities, refreshments, a short rest and a nice forum with Apostle Wolf. All group leaders even received hampers to be shared with their individual group. Needless to say the whole day was filled with fun for the youth. The closing prayer by the  Apostle  ended the exciting day. Sunday morning, 6th December 2015 a  Youth Divine Service was conducted by Apostle Wolf. There were  79 in attendance, because some members from nearby Rawang and Elmina Estate congregations have joined.  In an afte-service fellowship all shared a good lunch. Soon after all were on their way back home with a joyful memory and  a longing for the next gathering.

A true manifestation of JOYinCHRIST. Read more and see pictures at http://nac.today/en/208122 The core message of the Divine Service was about the word COME. "the Spirit and the bride, say Come!" Jesus used this word often, calling to follow Him. The true bride loves Christ and calls on Him to come. To come in every divine service and be among the two or three who gather in His name. He does come in the Holy Communion and the other sacraments and He will come on the day He appears for His bride. Let us pray more fervently than ever, what we express in the Lord's prayer" "Your Kingdom come" According to reports all locations in South East Asia got the connection via internet or satellite and the reception was very well. Some 13000 could be reached from Lusaka. May the magic word COME continue to inspire us to continue what our Brothers and Sisters after the first Pentecost did, they continued…..
"steadfastly in the apostles' doctrine and fellowship, in breaking of bread and in prayers"    Acts 2:42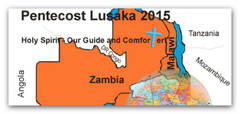 This year Pentecost service will be held by our Chief Apostle Schneider at the "National Heroes Stadium" in Lusaka, Zambia.

26th April 2015, 8 Confirmands made their vow of faithfulness to the Lord in our KL Church.  The District Apostle elaborated in his sermon  the theme "WHERE IS YOUR FAITH?" (Luke 8:25).