Malaysia

District Apostle Edy Isnugroho sent important information regarding divine services in the Southeast Asian region, especially during the global situation of the covid-19 pandemic. It aims to minimize the transmission of the virus in accordance with government regulations in the Philippines, Malaysia, Singapore, Indonesia and other South-East Asian countries. With agreement with the Apostles, the District Apostle decided that all regularly scheduled divine services, including lessons and church activities and events, especially in the cities, are suspended from March 18th, 2020 until March 31st, 2020. Continue reading →
Currently  are all divine services in Peninsular Malaysia suspended as announced by our Prime Minister effective 18 March 2020 to 31 March 2020.
Let us stay connected in prayers.

Once a year, All Apostles, national rectors as well as administrative officers gathered for the annual NAC SEAsia meeting. This year they gathered during last weekend from 17-19 January 2020 in Jakarta. Country specific dialogues and deliberations of spiritual topics from the desk of Chief Apostle as well planning and strategic issues were on the agenda. Continue reading →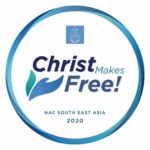 Chief Apostle J.L. Schneider addresses all new apostolic Christians worldwide with a New Year's message.   Click for the video Continue reading →
Christmas Divine Service at KL Central will commence at 9 a.m. on Wednesday 25 December 2019.